Membership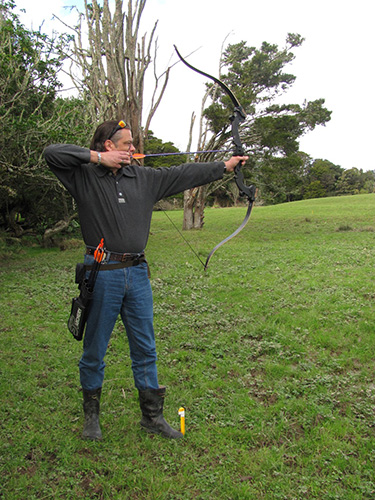 The Twin Coast Archers Club welcomes all archers, from absolute beginners through to experienced archers competing at international level. Age is no barrier. The club has a strong base of young players, aged from eight to 16, with adult numbers beginning to grow.
Our members are arranged in three age groups:
Cubs (8-12 years)
Juniors (13-17 years)
Adults (18+ years)
---
On Tuesday nights our members meet at the Wellsford A&P building, for Indoor Club Shooting; (ideal for keeping in shape, even if the weather isn't all that favourable…).
The club nights are arranged as follows:
6.30 - 7.30pm for Cubs & Novice/New Shooters
7.30 - 8.30pm for Junior and Senior Shooters
Visitors are always welcome on club nights.
The first night is free and equipment is available for beginners, so you can also "Have a Go".
On every 2nd Thursday, starting from 7.30pm, we are running an advanced archers coaching program with the aim to develop the more experienced intermediate and advanced archers further.
Please note that we will not be catering for cubs / beginners on Thursday nights.
We also regularly hold outdoor shoots, where members shoot 3D targets in field and natural bush settings.
And as our club is affiliated to the NZFAA, our members can participate in the several interclub and national competitions held throughout the year (see our events calendar for more details).
---
If you would like to join us and become a member of the Twin Coast Archers, then please fill out the Membership Application Form.
Or contact us at info@TwinCoastArchers.com, if you have any questions regarding the club or the terms and conditions of membership.
Alternatively, come and visit us during one of our club nights in Wellsford, and have a chat with our members.
---